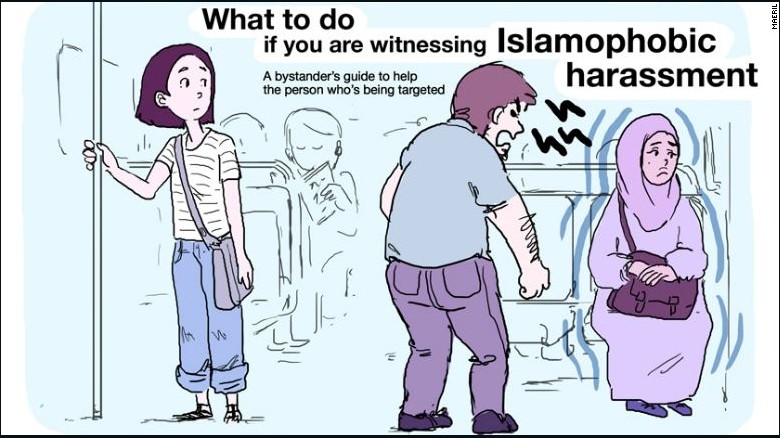 Maeril hopes her comic can "help someone being harassed while making sure any violence escalation remains unlikely."
(CNN)If you saw someone being harassed in a public space, you tell yourself you'd intervene on behalf of the victim, or report it.
In practice, that doesn't always happen. But Marie Shirine Yener wants to help.
Yener is a 22-year-old artist who lives in Paris. Under the pseudonym "Maeril," she has created a comic-strip guide offering step-by-step instructions on how to assist Muslims facing harassment in public spaces. The guide's four simple illustrations show how to create a safe and calm environment for the harassed person while ignoring the aggressor.
Maeril was moved to created the comic strip through her own connection to Muslim friends and her family's link to the Muslim diaspora. She posted the guide
on her Facebook page
, where it has been widely shared and translated into English.
Her illustrated message comes amid a rash of anti-Muslim sentiment in France, where dozens of beach towns recently banned the wearing of "burkinis" — head-to-toe swimwear — favored by some Muslim women (
the ban was later overturned by the French courts
).
CNN caught up with Maeril to gain some insights into her work.
CNN: What inspired you to create the comic strip?
Maeril: Islamophobia is on the rise. Not only in my country, after the terrorist attacks which occurred in Paris and Nice, but also around the world. I have been in contact with Islam through my friends and the very diverse place where I grew up in Paris. Furthermore, my mother is French-Iranian and my father is Armenian from the Turkish/Kurdish diaspora; their cultures have been influenced by Islam as well.
What responses have you received to it?
In addition to an outpouring of support and enthusiasm from a big part of the audience, there have been Islamophobic messages. Also, people seem to think I was saying you cannot apply the technique to other types of harassment. They [Muslims] are very vulnerable right now and fighting for their protection doesn't invalidate any fight to protect other minorities. You can fight for all without having to choose.
Why do you think your illustrations send an important message at this time?
I think it is time for people to realize there are minorities who suffer every day from not being white because [of] the privilege of skin color. Have you ever thought of what it would be like to live in a place where you're afraid to ask for help from the police and where people deny you services because of what you choose to wear? Because there are people who endure that every day.
What else would you say about your illustrations?
[My work is] always connected to some sort of advice. I want to help people to become more aware of less privileged peoples' struggles. Terrorism has been hitting us all hard. We need to stand together and block the road to any form of hate that could spawn from fear.
I wanted to make sure everyone had the easiest tools to step in when someone tries to disrupt our unity. I hope everyone got the memo.
Article Courtesy – CNN