Muslim Response to Geert Wilders
Mr. Wilders Go ahead and make my day!
Prophet Muhammad (PBUH) has been around for 1400 years, your cartoons will not make him disappear or hurt him in one way or the other.  He is considered a blessing for the entire humanity, and he will forgive you for your mischief – he would say, God, he knows not, forgive him. If you think, you can get some reaction out of Muslims, you are wrong this time around.
I am coming to the Netherlands to pray for your well being, not only me, I will gather people of all faiths to come together and pray for you. We do not agree with your stance, but we will respect your right to free speech. It is a God-given right and we have no intention of condemning it.
You had lied once with your film "Fitna" and you knew you were wrong, you received my letter in 2008, that is ten years ago, but chose not to respond: http://quraan-today.blogspot.com/2008/01/muslim-response-to-wilders.html
This is what we did to the Quran burning Pastor Terry Jones, a genuine Muslim response
https://quranburningpastorterryjones.blogspot.com/
This is what we did with Quran bashing pastor Robert Jeffress in Dallas, Texas
https://quraanconference.blogspot.com/
Mike Ghouse
www.WorldMuslimCongress.org
www.CenterforPluralism.com
# # #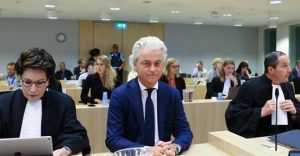 Dutch anti-Islam party to hold Prophet Mohammad cartoon competition
Courtesy of. Reuters Jun. 12, 2018, 11:17 AM
AMSTERDAM (Reuters) – The Freedom Party of Dutch anti-Islam politician Geert Wilders will hold a competition of cartoons depicting the Prophet Mohammad, it said on Tuesday.
The party said the plan to hold the competition in the party's secure offices in Dutch Parliament had been approved by the Dutch Counter-terrorism Agency NCTV.
Cartoons depicting Mohammad have provoked violent responses in the past.
In 2015, Islamist gunmen killed 12 people at the Paris offices of the French secularist satirical newspaper Charlie Hebdo, which had printed cartoons of the Prophet. In 2005, the publication in a Danish newspaper of a dozen cartoons depicting the Prophet led to violent protests across the Muslim world.
Wilders' Freedom Party is the leading opposition party in parliament after coming in second place in elections last March. He has called for the Koran to be banned, and says Islam is a totalitarian faith.
"Freedom of speech is threatened, especially for Islam critics," Wilders said in a statement. "We should never accept that. Freedom of speech is our most important freedom."
American cartoonist Bosch Fawstin, winner of a similar contest in Garland, Texas, in May 2015, has been asked to judge the Dutch contest, which will be held later this year.