Quran and the Troublesome Verses
The Center for Pluralism presents the workshop on the Quran. There are over 50 translations of the Quran, a few of them are reasonably good, some of them are bad and ugly, and some are politically motivated and have created ill-will between communities, as opposed to creating goodwill. Finding the truth is our own responsibility and we are pleased to facilitate the process
The audience will select ten verses from an array of 30 supposedly troublesome verses. The individuals from ten different religions will read the Quranic verses and share their understanding with the audience. The Imams and Muslim scholars will be observers to make sure that fellow members of the family of faiths have understood the Quranic verses similar to the understanding of Muslims. If it is different, then either the translation is flawed, or the perception is mistaken. We will have an open discussion and the Imams and Muslim scholar will explain the correct meaning." Then we go to the next verse.
As an individual, how will you know what is the right translation? Find out at the workshop.

Pictures from the Dallas Quran conference event = representing different faiths
https://www.flickr.com/photos/mikeghouse/albums/72157626617759642
Who should attend? 
This workshop is for you if you believe that the Quran teaches violence. We urge you to attend this workshop, as it may release you from the anxieties that come with misinformation. Truth always wins and brings relief. 
The workshop is also for Muslims who are skeptical about the Quran and need a healthy dose of confidence in the book. Quran is a book of guidance to create cohesive societies where no one has to live in fear of the other. Indeed, the Quran is not for Muslims, and it is for the entire humanity. It addresses mankind from the very first verse to the last chapter.   

Finally, the long-awaited seminar dealing with the troublesome verses from the Quran are on the table for discussion. "The Center for Pluralism is committed to demystifying the myths about all faiths with the mission to open our hearts, minds, and souls toward each other for living in harmony," Mike Ghouse, President of the organization. 
This event is not to promote Islam but to clarify misunderstandings about the Quran. 
Our policy at the Center for Pluralism is to treat all faiths equally and with full dignity. We believe that no religion is superior or inferior to any, and all of them bring humility to humankind and teach to shed arrogance, which is the mother of all conflicts.
 If we can learn to respect the otherness of the other and accept the God-given uniqueness of each one of us, then conflicts fade and solutions emerge. 
We are filming this event and request you to come dressed up. However, if you don't want to be in the film, we have reserved the last two rows for you.
Event: The Quran and the Troublesome Verses 

Date: Sunday, March 29, 2020 – 1:30 PM to 4:00 PM

Venue: Arlington Central Library 

Address: 1015 N. Quincy Road, Arlington, VA 22201 

Ten Panelists will be representing different traditions

Atheist, Baptist, Catholic, Hindu, Jewish, Methodist, Mormon, Presbyterians, Sikhism

The Muslim Imams and Scholars will attend the event as observers.   

The event is organized by The Center for Pluralism & American Muslim Agenda  
Religions have been misused to benefit the divisive politicians — some of the mistranslations of the Quran are a product of such politics and not the teachings of the Quran. In the middle ages, the European leaders commissioned a hostile Quran translation to foster warfare against Muslim invaders (1142 AD). Later, Muslim leaders produced another translation (1924) to inflame Muslims against Christians and Jews. It was all for politics. It is time to identify the problems, clarify them, and start living our lives in peace and without tensions. We will have several copies of the Quran on display before and after the seminar. 
Check out our website for many such events involving different faiths. As a side event of the State Department's Ministerial in 2019, we conducted a program called "Are the Religious scriptures a source of conflict or harmony involving four religions – Christianity, Hinduism, Islam, and Judaism. We hope to do a full-day event with all beliefs on the same issue.
Twisted verses for false propaganda
Join us and find the truth on your own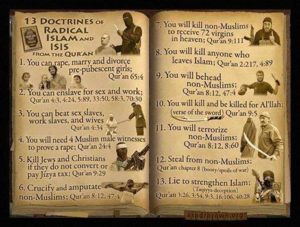 References from Past events:
 We had two successful events on the same theme, and we had tremendous positive feedback, which I will share at the event. 
 In defense of Islam –
https://www.dallasnews.com/news/2010/09/19/in-defense-of-islam-pursuing-a-civil-dialogue/ 
Quran Conference in a nutshell
https://www.youtube.com/watch?v=hClTnD2kXaQ 
Challenging Pastor Jeffress on the Quran Translation
https://www.youtube.com/watch?v=5ZOFLQSAOhA&feature=related
Religions are abused – https://www.youtube.com/watch?v=M-cqRNaOIXY 
Pastor Jeffress denounces Islam
https://www.fox4news.com/news/dallas-pastor-criticized-for-sermon-denouncing-islam 
Pastor Bashing the Quran – https://www.youtube.com/watch?v=vljHpK4RBxc

Responding to false charges against the Quran
Response to Nonie Darwish for false propaganda against the Quran
http://hatesermons.blogspot.com/2009/08/nonie-darwish-hate-monger.html 
Response to Geert Wilders against false chargest against the Quran
http://quraan-today.blogspot.com/2008/01/muslim-response-to-wilders.html
Response to Tarek Fatah for falsifying Verses from the Quran for his benefit.
http://centerforpluralism.com/anti-muslim-advocacy-day-tarek-fatah-was-pushed-back/
Response to Dhaliwal on a misunderstanding by Sikhs
https://www.huffpost.com/entry/sikhs-and-muslims-on-542n_b_1087327
Dealing with the Quran burning Pastor Jones
https://quranburningpastorterryjones.blogspot.com/ 
There is a lot of work done on the subject including presentations at the Parliament of the worlds religions and other sited.
 Mike Mohamed Ghouse | President – Center for Pluralism |  Author – American Muslim Agenda 
Dr. Mike Ghouse is a Public Speaker, thinker, author, organizer, business consultant, newsmaker, and an interfaith wedding officiant. He is deeply committed to Pluralism in Religion, Politics, and Societies along with Human rights, and Religious freedom. His new book American Muslim Agenda is available on Amazon, and two more books on Human Rights and Pluralism will be released this year. He is committed to building cohesive societies and offers pluralistic solutions on issues of the day. His information is available at linked-in.
# # #